Football stadiums stand as more than just bricks and mortar; they are living testaments to the power of sport, community, and human connection. Their influence extends far beyond the confines of their walls, leaving an indelible mark on the hearts and minds of fans around the world. As global symbols of fandom, they serve as beacons of hope, unity, and the enduring spirit of the beautiful game.
Here's our top pick for the largest soccer stadiums in the world based on seating capacity.
1. Rungrado 1st of May Stadium
Location: Pyongyang, North Korea |Opened: 1989|Seating Capacity: 114,000|Construction Cost: Unknown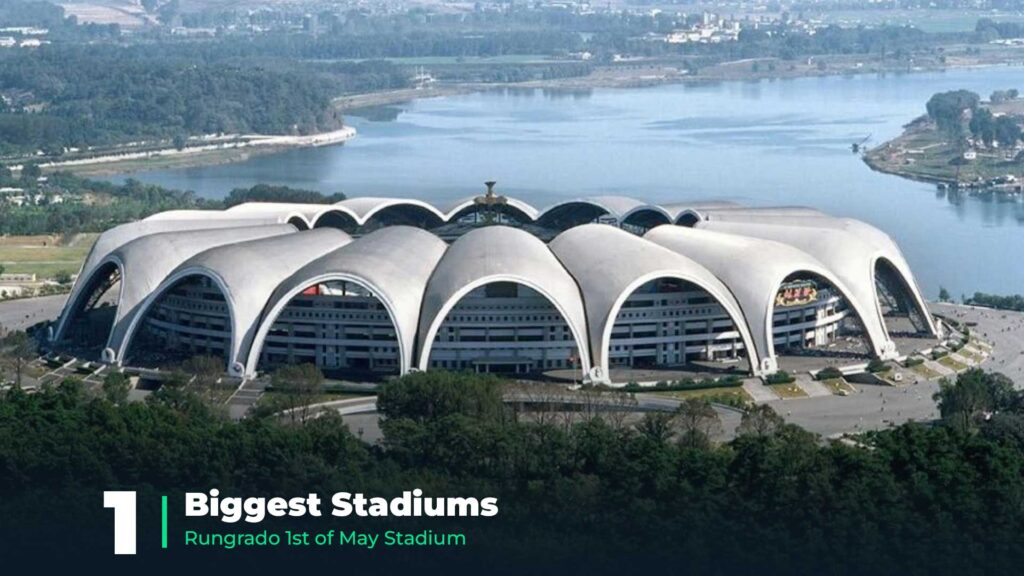 The Rungrado 1st of May Stadium in Pyongyang, North Korea, is globally renowned as one of the largest football stadiums, boasting the highest seating capacity worldwide at 150,000.
Built in 1989, it hosts football matches, sports events, and cultural performances. The stadium's distinctive circular design includes a towering roof supported by 16 massive arches, surrounded by a moat for added grandeur.
Named after International Workers' Day on May 1st, the stadium commemorates North Korea's founder, Kim Il-Sung, on his 70th birthday.
2. Michigan Stadium
Location: Ann Arbor, Michigan, USA|Opened: 1927|Seating Capacity: 107,601|Construction Cost: $950,000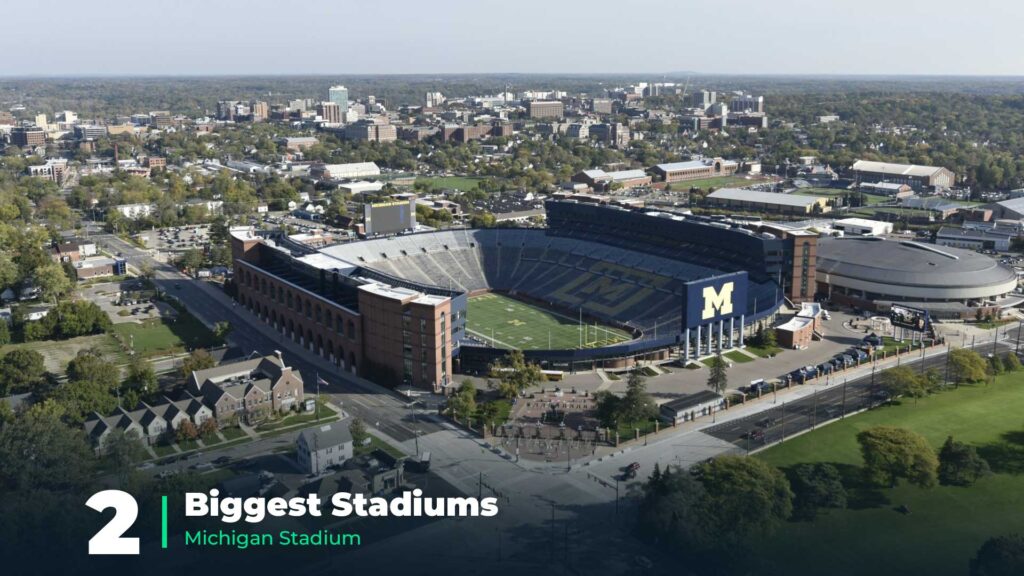 Michigan Stadium, also known as "The Big House," is a massive soccer stadium located in Ann Arbor, Michigan, USA. It serves as the home venue for the University of Michigan's Wolverines football team. Boasting a seating capacity of 107,601, it ranks as the largest stadium in the US and the second-largest globally.
Originally built in 1927 with a capacity of just over 72,000, it was designed by architect Bernard Green, who incorporated classical architectural elements. The stadium has seen several renovations and expansions, the latest being in 2010.
In addition to football, the stadium has hosted various significant events including political rallies, concerts, and soccer matches. Notably, in 2014, it was the venue for the International Champions Cup match between Manchester United and Real Madrid, drawing an audience of over 109,000.
3. Ohio Stadium
Location: Columbus, Ohio, USA|Opened: 1922|Seating Capacity: 102,780|Construction Cost: $1.3 million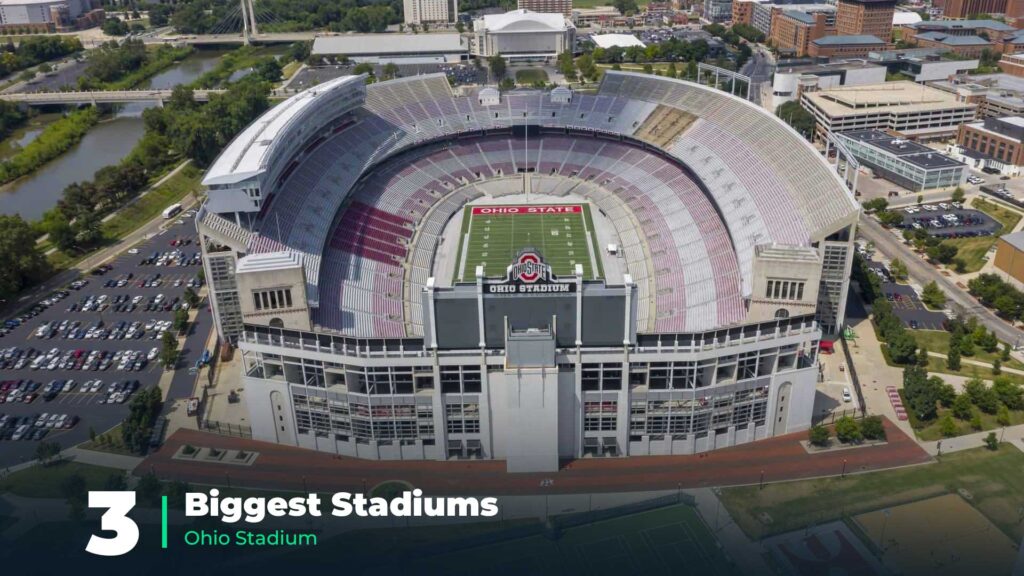 Ohio Stadium, also referred to as "The Horseshoe," is a historic football stadium situated on the campus of The Ohio State University in Columbus, Ohio, USA. It serves as the home turf for the Ohio State Buckeyes football team and boasts a seating capacity of 102,780, placing it among the largest stadiums in the United States.
Since its opening in 1922, Ohio Stadium has seen various renovations and expansions. Initially accommodating just over 66,000, its capacity has been increased to its current size.
The stadium holds a rich history, hosting numerous pivotal football games and events. One of its most renowned moments was the 2002 National Championship game, where Ohio State emerged victorious over the University of Miami. Additionally, it has been the venue for several highly anticipated Ohio State-Michigan rivalry games, known for their intensity.
The original construction cost of Ohio Stadium in 1922 was approximately $1.3 million. However, subsequent renovations and expansions have contributed to the overall expense of the facility.
4. Camp Nou
Location: Barcelona, Catalonia, Spain|Opened: 1957|Seating Capacity: 99,354|Construction Cost: €900 million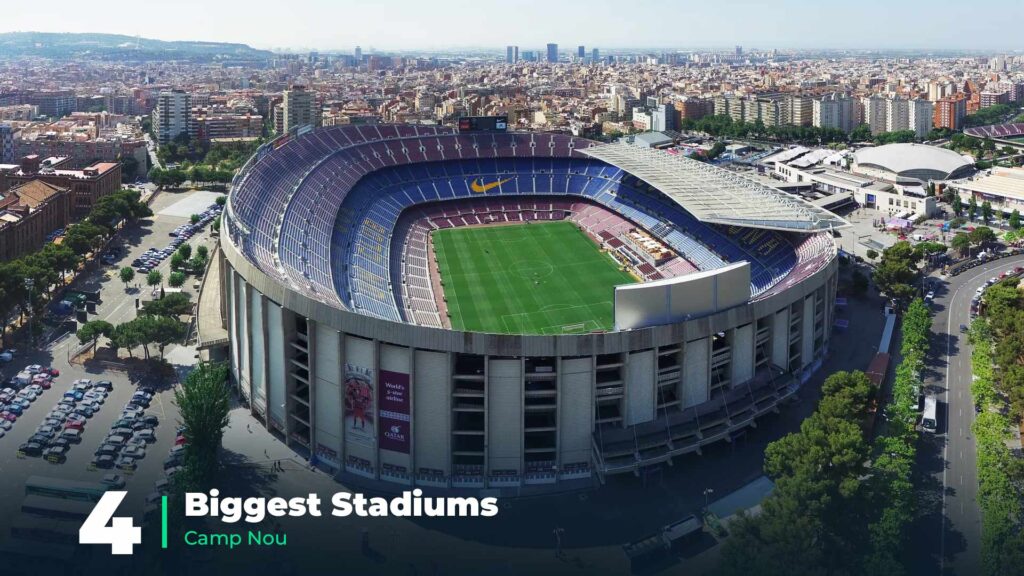 Camp Nou Stadium, also known as Nou Camp, is a colossal stadium located in Barcelona, Spain. It serves as the home ground for FC Barcelona and can accommodate 99,354 spectators, making it not only the largest stadium in Spain but also one of the world's largest.
Opened in 1957, Camp Nou has undergone multiple renovations and expansions, initially seating just over 93,000. The most recent upgrade, from 2017 to 2020, included the addition of a new roof and enhanced facilities.
The stadium's original construction cost in 1957 was approximately 288 million pesetas. Among the notable matches held here was the 1999 Champions League Final, where Manchester United secured victory over Bayern Munich.
Despite its immense size, Camp Nou's unique design, characterized by steep stands and open corners, creates an intimate atmosphere. The stadium is renowned for its special ambiance, fostered by fervent fans known as "Culés" who fill the stands, generating a vibrant and lively environment.
5. FNB Stadium
Location: Johannesburg, South Africa|Opened: 1989|Seating Capacity: 94,736|Construction Cost: $440 million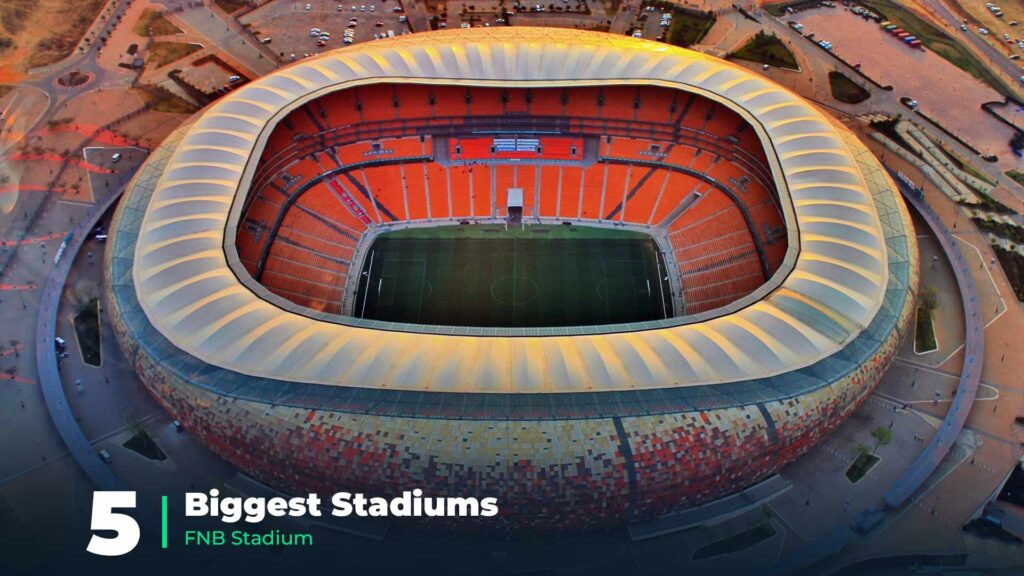 FNB Stadium, also known as Soccer City, is a football stadium located in Johannesburg, South Africa. It holds the distinction of being the largest stadium in Africa, boasting a seating capacity of 94,736.
Originally named the National Stadium, it opened in 1989. In preparation for the 2010 FIFA World Cup hosted by South Africa, the stadium underwent a significant renovation from 2006 to 2009. This transformation included the addition of a new roof, upgraded facilities, and the installation of new seats.
The stadium's unique calabash shape and patterned exterior have made it an iconic symbol of South African football. Inspired by traditional African pottery, this design was intended to embody the culture and heritage of South Africa.
The initial construction cost of FNB Stadium in 1989 was approximately 440 million South African Rand. However, the renovation in 2009 incurred a significantly higher expense, with estimates ranging from 2 to 3 billion Rand.
6. Rose Bowl
Location: Pasadena, United States|Opened: 1922|Seating Capacity: 95,542|Construction Cost: $4 million in 2019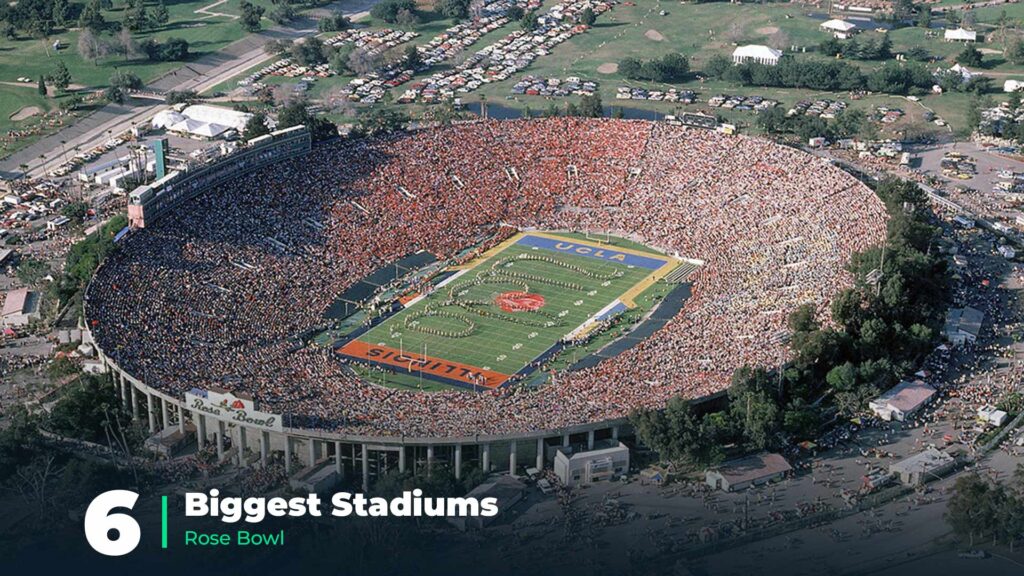 The Rose Bowl Stadium, located in Pasadena, California, USA, is a historic football venue renowned worldwide. It can accommodate 90,888 spectators, and stands as one of the most iconic and recognizable stadiums.
Since its opening in 1922, the stadium has become an integral part of American football culture. It annually hosts the Rose Bowl Game, a prominent fixture in college football, which has taken place at the stadium every year since 1923, except for 1942 due to World War II.
Throughout its history, the Rose Bowl Stadium has been the site of numerous significant football matches, including five Super Bowl games and the 1994 FIFA World Cup Final. It has also served as a venue for various other events, including concerts, religious services, and the track and field events of the 1984 Olympic Games.
7. Sanford Stadium
Location: Athens, Georgia, United States|Opened: 1922|Seating Capacity: 92,746|Construction Cost: Unknown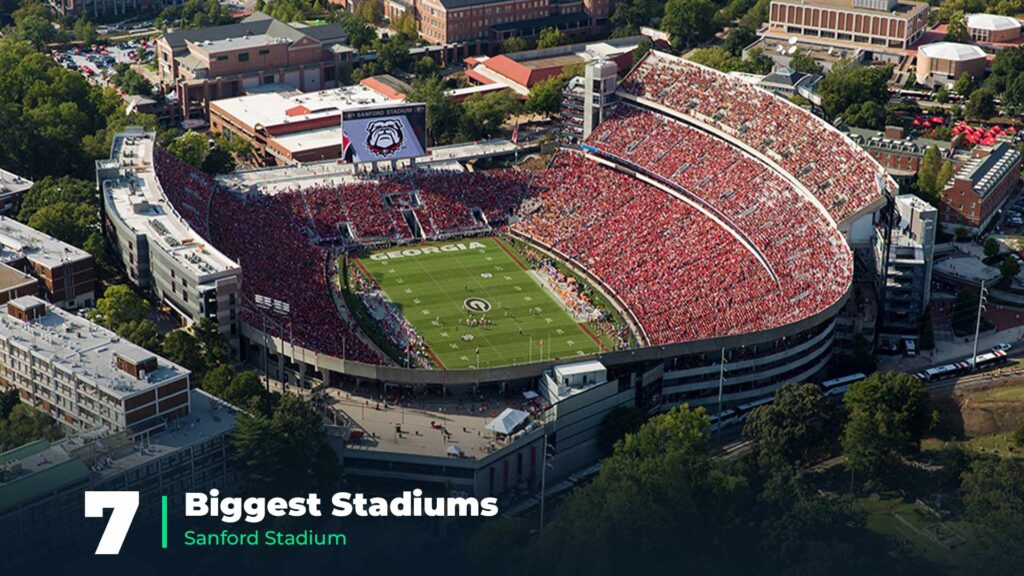 Sanford Stadium, nestled on the University of Georgia campus in Athens, Georgia, USA, is a historic football arena. It proudly hosts the Georgia Bulldogs football team and accommodates 92,746 fans.
Since its inauguration in 1929, the stadium has seen significant upgrades, including major expansions in 1967, 1981, and 1994. The latest renovation in 2018 introduced modern amenities like a cutting-edge video board, enhanced seating, and upgraded concessions and restrooms.
Sanford Stadium holds a special place in college football lore, renowned for its timeless architecture and vibrant game-day atmosphere. Its classic bowl shape, featuring steep slopes, ensures excellent field views from every seat.
An unmistakable feature of Sanford Stadium is its renowned hedges, meticulously planted in 1929. They grace the field and have become an endearing symbol of Georgia football, meticulously maintained and adding a unique touch to the stadium's character.
8. Cotton Bowl Stadium
Location: Dallas, Texas, USA|Opened: 1998|Seating Capacity: 92,100|Construction Cost: Unknown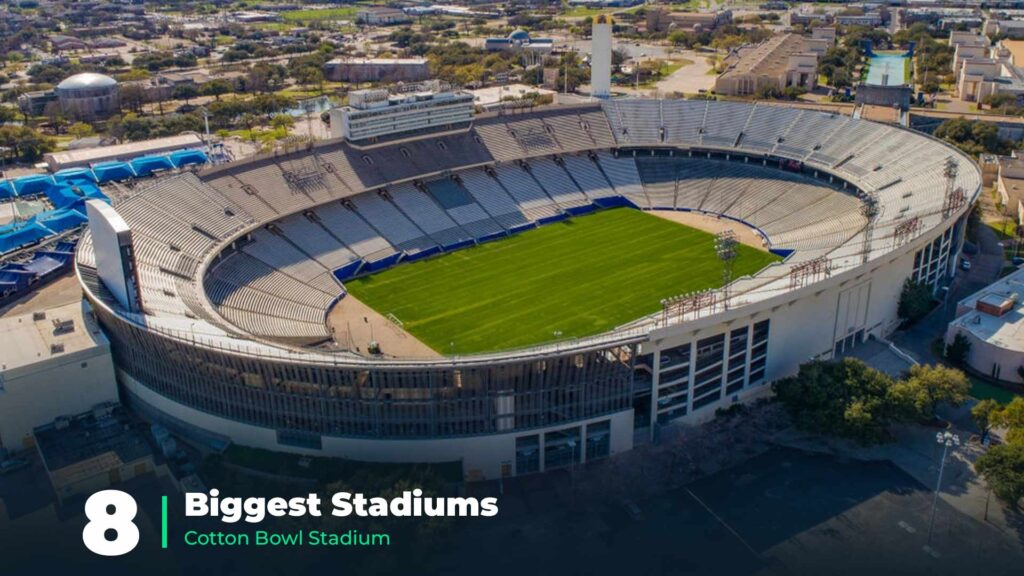 Cotton Bowl Stadium, situated in Dallas, Texas, USA, is a historic sports arena with a rich legacy. Since its inauguration in 1930, it has provided seating for over 92,100 spectators, making it one of Texas' largest stadiums. The venue has been host to a wide range of events, including college football games, concerts, and various sporting competitions.
Its most renowned event is the annual Cotton Bowl Classic, a college football bowl game held since 1937, showcasing top teams from across the nation. The stadium has witnessed numerous historic matchups, including the iconic Red River Showdown between the University of Texas and the University of Oklahoma.
Beyond football, Cotton Bowl Stadium has been the backdrop for various other sporting events like soccer matches, boxing bouts, and track and field competitions. Notably, it served as the site for the 1966 NFL Championship Game, where the Dallas Cowboys triumphed over the Green Bay Packers.
To enhance the fan experience, the stadium has undergone several renovations and modernization efforts over the years. In 2008, a major renovation project was completed, which included the installation of new seating, upgraded concession stands, and improved restroom facilities.
9. Wembley Stadium
Location: London, England|Opened: 2007|Seating Capacity: 90,000|Construction Cost: £789 million in 2007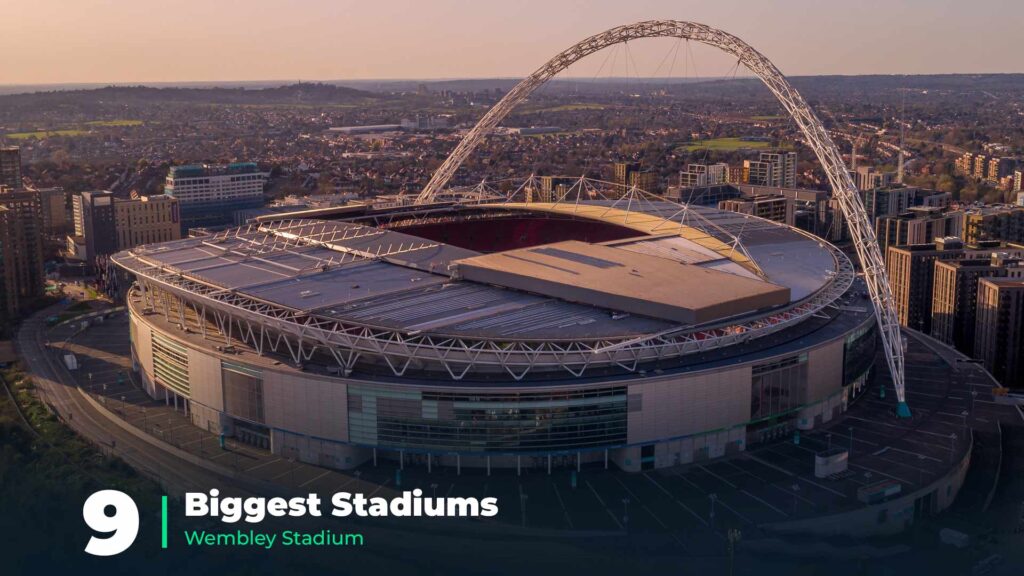 Wembley Stadium, situated in London, England, is a historic sports arena. Since its opening in 2007, it has welcomed over 90,000 spectators, earning the title of the largest stadium in the United Kingdom and the second-largest in Europe.
The stadium's roots trace back to the old Wembley Stadium, known for iconic events like the 1948 Summer Olympics, the 1966 FIFA World Cup final, and Live Aid in 1985. The original venue was demolished in 2003, and the new stadium was erected at a cost exceeding £1 billion.
Primarily dedicated to football (soccer), Wembley serves as the home for the England national football team. It also hosts pivotal domestic cup finals, including the FA Cup and the EFL Cup, along with the Football League play-off finals.
Beyond football, Wembley has been the stage for various events, encompassing rugby matches, NFL games, boxing bouts, and monumental music concerts featuring renowned artists like Beyoncé, Ed Sheeran, and Adele.
10. Estadio Azteca
Location: Mexico City, Mexico | Opened: 1966| Seating Capacity: 87,525 |Construction Cost: $260 million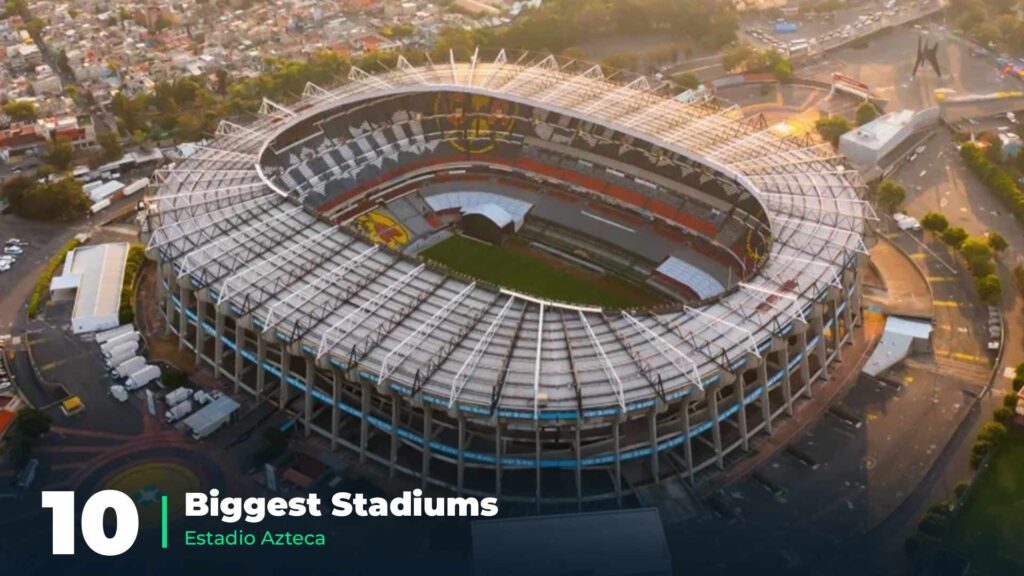 Estadio Azteca, located in Mexico City, Mexico, is one of the largest stadiums in the country. Inaugurated in 1966, it initially had a capacity of 87,523 spectators, ranking it among the world's largest stadiums.
The stadium has been the stage for several significant football events, including the 1970 and 1986 FIFA World Cups. Notably, it was the first venue to host two World Cup finals, and it has also been the setting for multiple CONCACAF Champions League finals and other pivotal matches.
Beyond football, Estadio Azteca has hosted concerts and various events, featuring performances by legendary artists like Michael Jackson, U2, and Madonna.
The stadium boasts a distinctive circular design with a substantial concrete roof covering all the seats. This roof is supported by a circle of concrete columns set back from the edge of the stadium, ensuring unobstructed views from every seat.