Mercedes-Benz Stadium – Atlanta, Georgia, USA
The stadium's retractable roof has eight translucent panels arranged like a pinwheel. It opens slightly slower than it closes to ensure smooth operation. When open, the panels create a bird's wing effect. The roof design was inspired by the Roman Pantheon, and it's made of a clear, lightweight material that adjusts opacity for light control. The exterior features clear polymer or glass for outside views.
The "Halo" is a massive video board around the rim, three times larger than the previous NFL record. Daktronics also installed over 20,000 square feet of LED boards. The roof can remain open in light rain, thanks to outdoor-rated electrical systems and a drainage system. Decisions on closure consider factors like humidity and outside temperatures.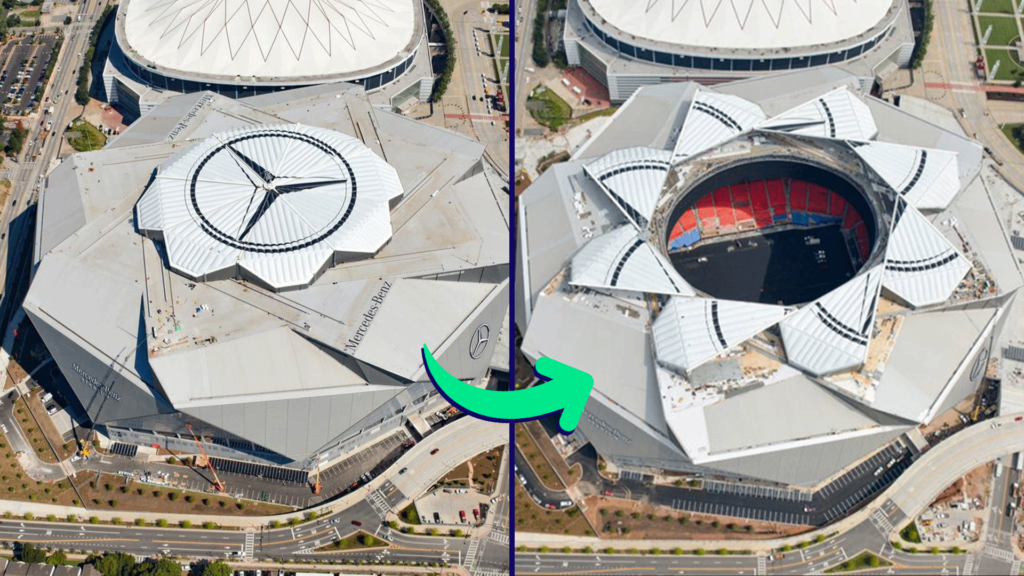 AT&T Stadium – Arlington, Texas, USA
AT&T Stadium, located in Arlington, Texas, is a retractable-roof stadium completed on May 27, 2009. It is the home of the Dallas Cowboys (NFL) and hosts events like the Cotton Bowl Classic, Big 12 Championship Game, and Southwest Classic. The stadium is a venue for the 2026 FIFA World Cup. Owned by Arlington, it hosts a range of activities including concerts, basketball, soccer, rodeos, and more. It replaced the partially covered Texas Stadium, which was the Cowboys' home from 1971 to 2008.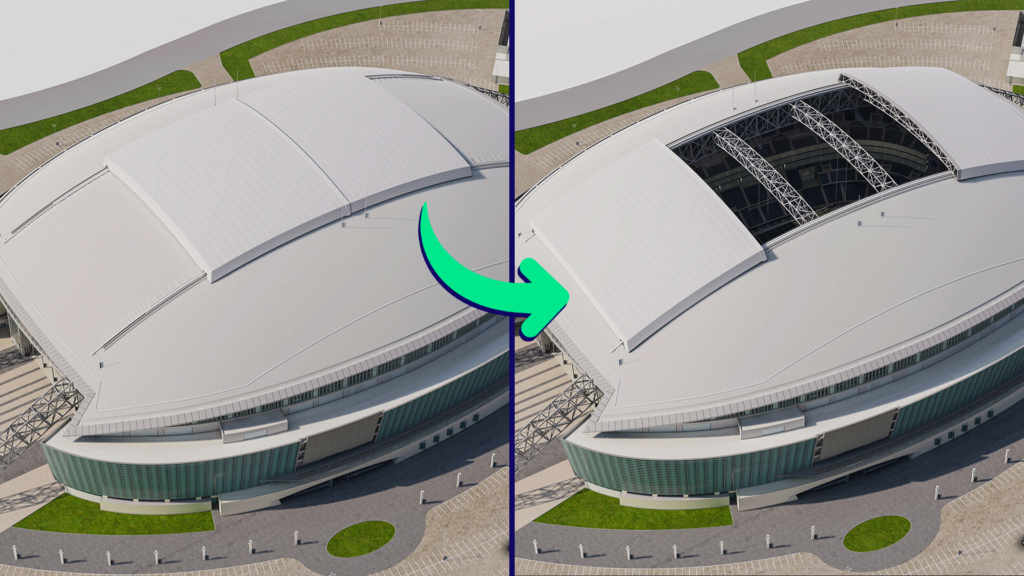 Lucas Oil Stadium – Indianapolis, Indiana, USA

The stadium's retractable roof, made of two panels weighing 2.5 million pounds each, opens or closes in approximately 11 minutes. The decision to open or close the roof is made by the home team 90 minutes before kickoff.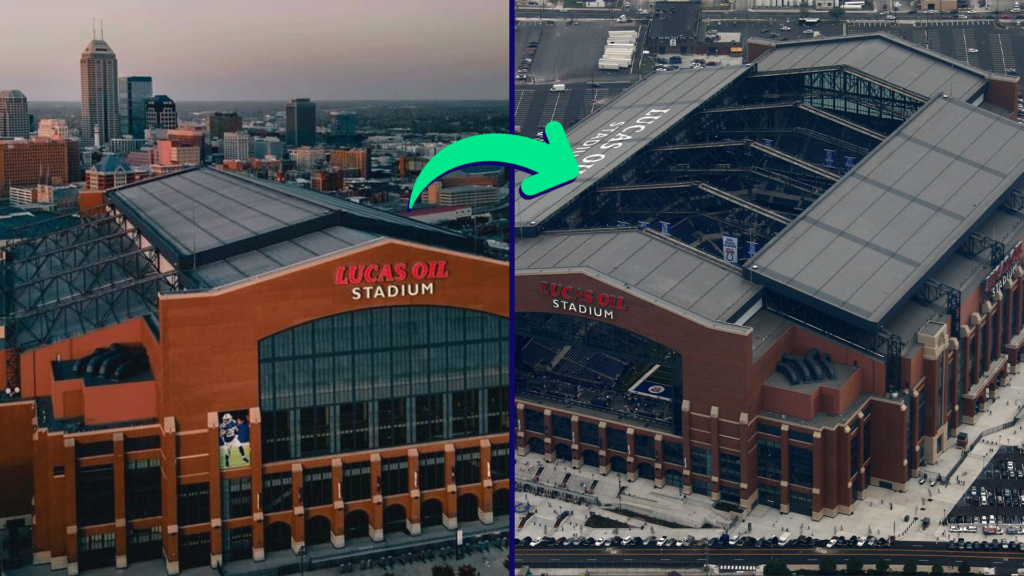 State Farm Stadium – Glendale, Arizona, USA
State Farm Stadium, located in Glendale, Arizona, is a versatile retractable roof stadium situated west of Phoenix. It serves as the home of the Arizona Cardinals (NFL) and hosts the annual Fiesta Bowl. The stadium took over from Sun Devil Stadium in Tempe as the Cardinals' home and is located next to the former home of the Arizona Coyotes of the NHL, the Desert Diamond Arena.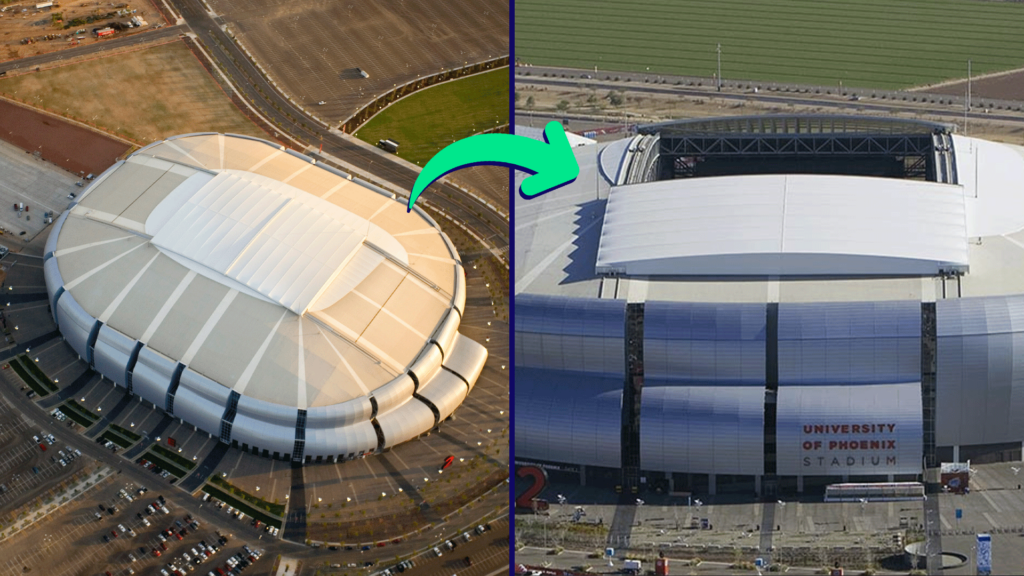 BC Place – Vancouver, Canada

BC Place boasts a remarkable retractable roof, a technological feat enhancing its role as British Columbia's largest and most adaptable venue for world-class events. This cable-supported fabric roof, the world's largest, was meticulously designed for Vancouver's climate through extensive engineering and architectural studies. Notably, BC Place accommodates events year-round, providing comfort for attendees. This contributes significantly to British Columbia's economy, generating over $100 million in economic activity annually.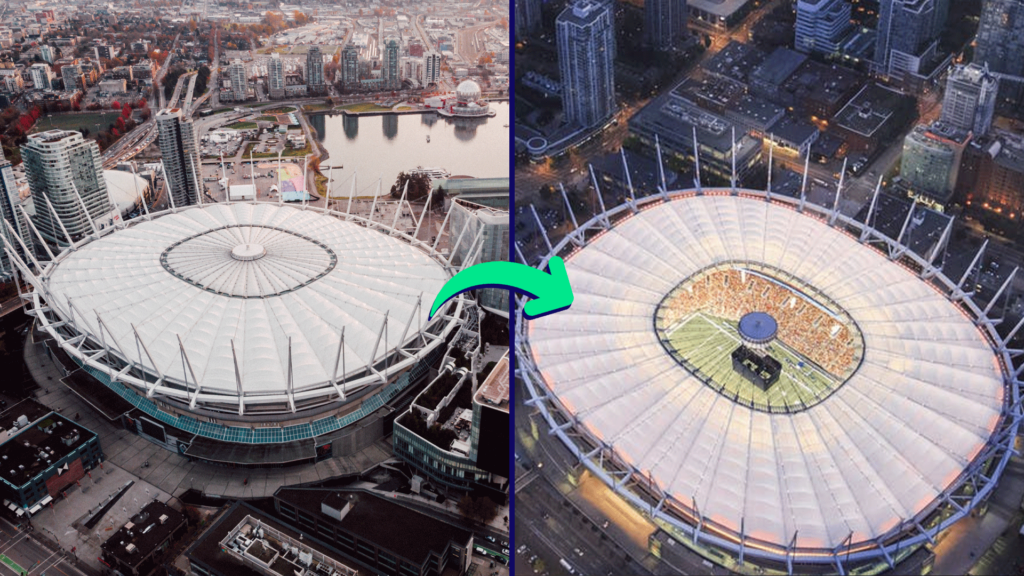 National Stadium (Warsaw) – Warsaw, Poland
The retractable roof of the stadium is partially transparent, constructed from fiberglass coated with Teflon. This material is highly resilient to weather elements like rain, sun, and even up to 18 cm of wet snow, and it minimizes creasing. The technology for its production originates from the German company Hightex GmbH, and the textile was manufactured in Bangkok by Asia Membrane Co. Ltd.
The process of opening or closing the roof takes approximately 20 minutes, but it can only be done at temperatures above 5°C and not during rain. This condition led to a one-day delay of a football match against England on October 16, 2012. A drive system is utilized to stretch the membrane during opening and fold it during closure. The steel cables supporting the roof structure collectively weigh 1,200 tons. Additionally, beneath the roof, there are four LED display screens, each with an area of 200 m2.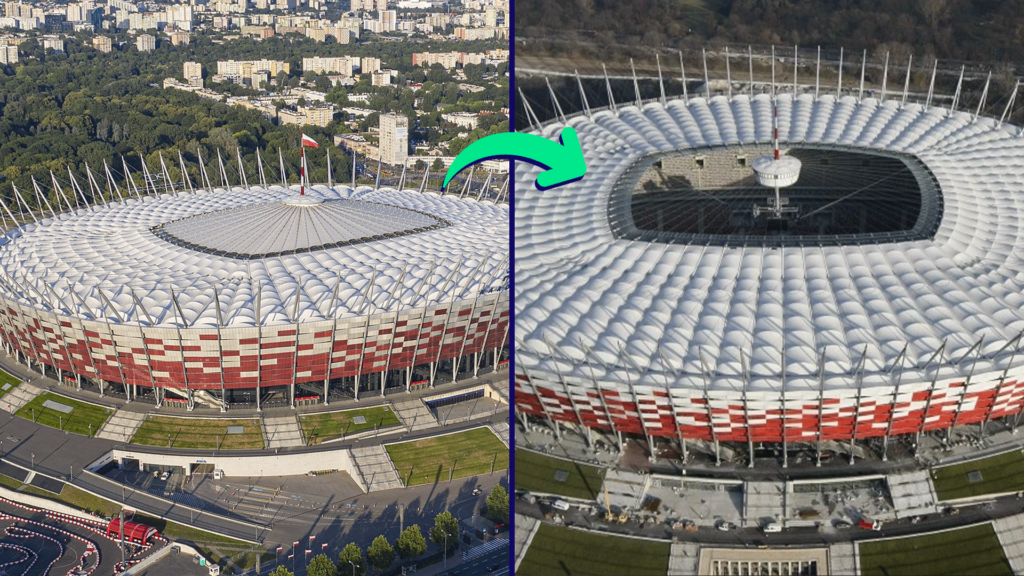 GelreDome – Arnhem, Netherlands
The stadium features a retractable roof and a convertible pitch that can be retracted during non-sporting events. It also has a climate control system. It can hold 34,000 people for sports events and 41,000 for concerts. The GelreDome pitch is enclosed by four covered all-seater stands named the Edward Sturing Stand (North), Charly Bosveld Stand (East), Theo Bos Stand (South), and Just Göbel Stand (West).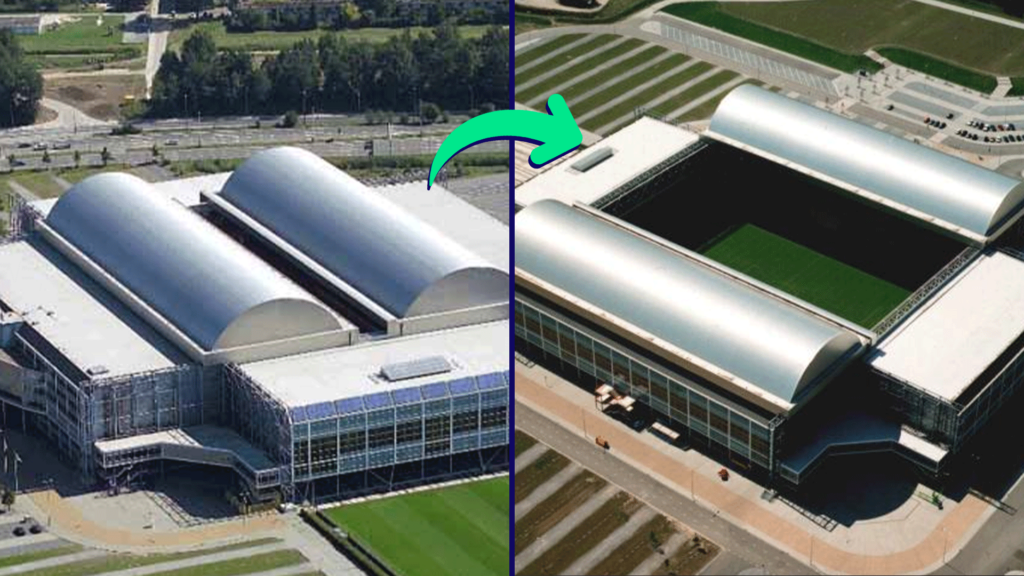 Docklands Stadium (Marvel Stadium) – Melbourne, Australia
Docklands Stadium, currently sponsored and known as Marvel Stadium, is a versatile sports and entertainment venue located in the Docklands area of Melbourne, Victoria, Australia. Construction commenced in October 1997 and was finalized in 2000, with a total cost of A$460 million ($936.42 million in 2023 terms). The stadium boasts a retractable roof and its ground-level seating can be transformed from oval to rectangular configuration.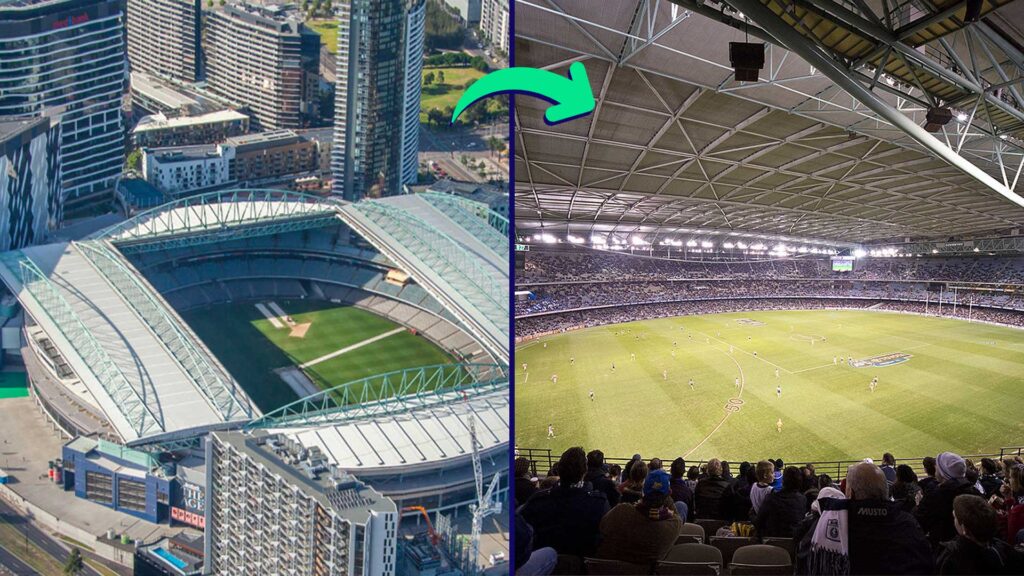 Noevir Stadium Kobe – Japan
NOEVIR Stadium Kobe, also known as Kobe Wing Stadium, was constructed for the 2002 FIFA World Cup. Initially accommodating 42,000 spectators, it hosted three first-round group matches. Post-World Cup, temporary seating was removed and a retractable roof was installed, reducing capacity to just over 30,000 seats. In 2007, it was renamed Homes Stadium Kobe due to a naming rights deal. In 2013, another sponsorship agreement led to its current name, NOEVIR Stadium Kobe.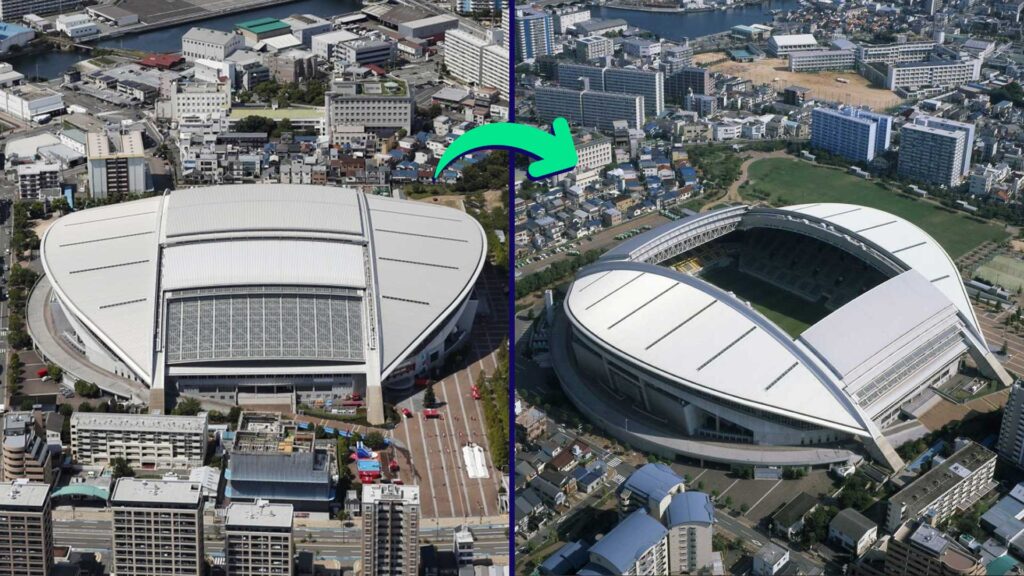 Santiago Bernabéu Stadium – Spain
Originally scheduled for a summer 2017 start, a €525-million renovation project for the stadium began in 2019. The capacity will see an approximate 4,000-seat increase with the addition of an extra tier, reaching just over 85,000. The height will also be raised by ten meters, and both a retractable roof and pitch will be incorporated. Additionally, the club plans to sell naming rights for the renovated stadium.